The World Health Organisation is celebrating the 74th World Health Assembly this week (24 May – 1 June) which will have a decisive impact on the global health agenda ahead of us. Fight The Fakes used this important occasion to put the spotlight on the dangers that the proliferation of substandard and falsified Covid-19 medicines and treatments is causing all over the globe.
At our event – Old Problem, New Foes – Time to act against falsified medicines and vaccines for COVID-19 – we could not have had better speakers, representing a variety of backgrounds and points of view on a common problem, the rise of fake medicines and treatments during the Covid-19 pandemic. Our experts discussed a variety of causes and consequences and came up with interesting reflections on the matter.
The great panel that accompanied us during this important date was exceptionally moderated by Andrew Jack, from the Financial Times, who was able to guide the discussion and bridge all viewpoints in a unique and seamless way.
Hoda Kanso, Co-Student Lead UCL Fight the Fakes delivered an insightful and encouraging call to action on behalf of the Fight the Fakes Alliance's academic & youth group.
To round off our event, our attendees were particularly engaged in a pleasant and interesting Q&A round. Following this, Fight The Fakes' Chair, Adam Aspinall from Medicines for Malaria Venture, rounded up the event with inspiring words about our joint mission in the fight against this well-known problem, which is now more present than ever due to the pandemic.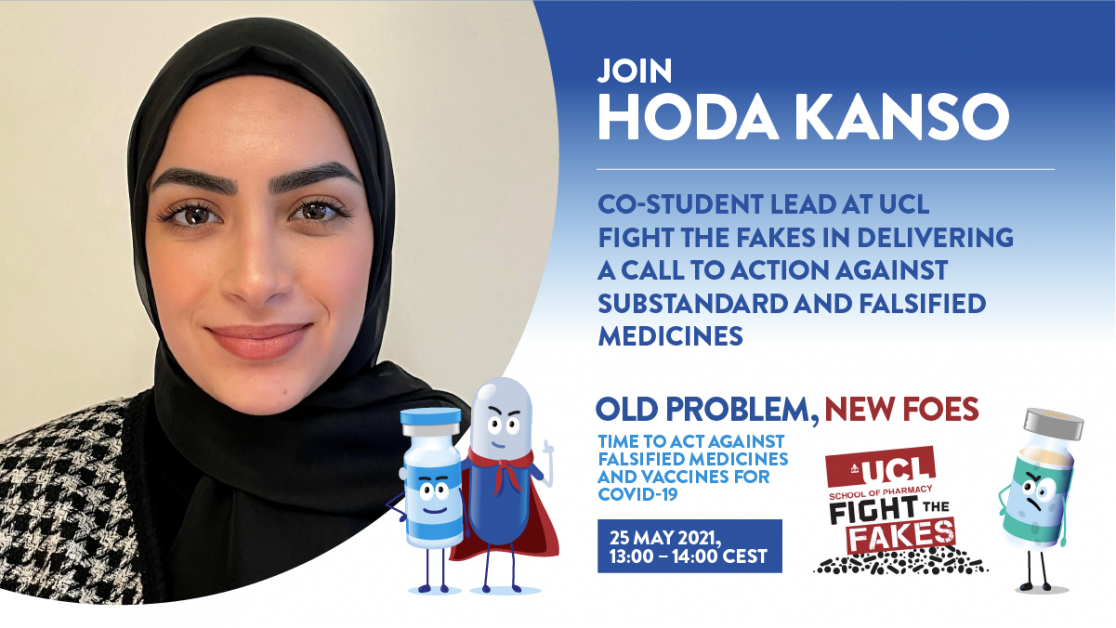 Thank you very much to our excellent speakers for their insights and valuable contributions!
We would also like to take this opportunity to thank our members and youth/academic groups for their efforts, thanks to you this event has been a success!