The latest 'Medical Product Quality Report – COVID-19 Issues' from Medicine Quality Research Group, Centre of Tropical Medicine & Global Health, Nuffield Department of Medicine and the University of Oxford from December 2020 highlights the rise of substandard and falsified medicines linked to COVID-19.
Throughout 2020 the MQM Globe database tracked and identified over 469 relevant articles from English sources reporting incidents linked to COVID-19 medical products. Those articles included at least 534 different incidents in 60 different countries. Over 50% of the incidents were linked to substandard and falsified (SF) personal protective equipment (PPE) and sanitisers. The other incidents included medicines, diagnostics and vaccines, offered also on the dark web.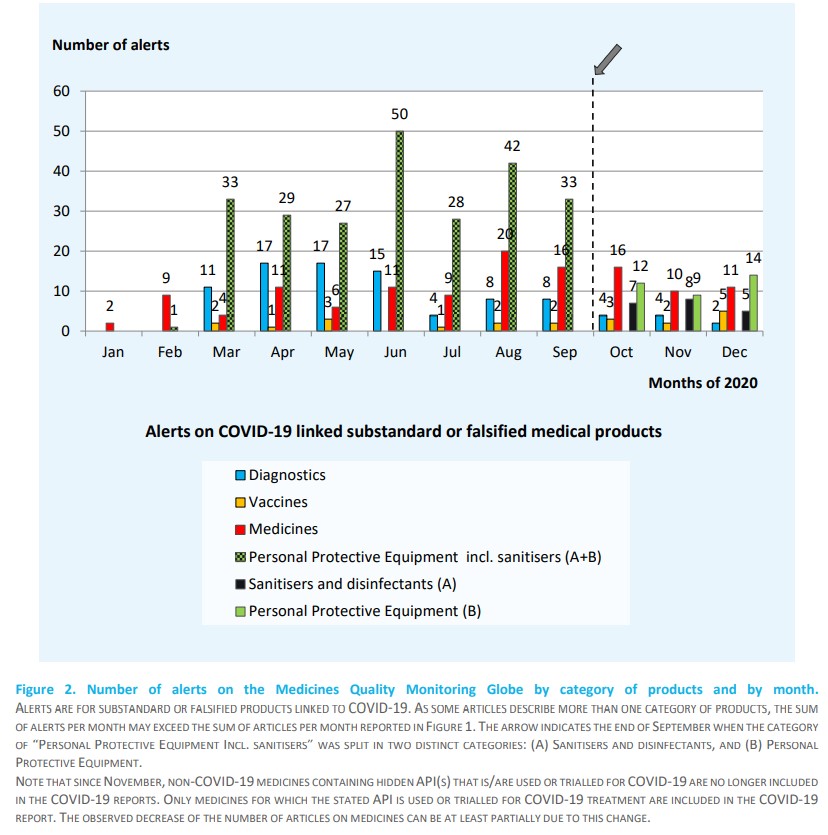 As of beginning of December 2020 there were 1,727 COVID-19 related seizures such as unauthorised COVID-19 test kits, unauthorised pharmaceuticals and falsified masks. In December 2020 Operation stolen Promise 2.0 was launched to focus on "new and evolving public health threat posed by the illicit sale and distribution of counterfeit or unauthorized vaccines and treatments."
Fight the Fakes Alliance calls for increased alertness and collaboration from international stakeholders and authorities to stop the spread of falsified and substandard medicines. Today the call is urgent as efforts to end the COVID-19 pandemic can be threatened and even worsened by the spread of falsified and substandard medicines.