Register for the events taking place during Fight the Fakes Week!
USP and Fight the Fakes Alliance are convening a panel discussion focusing prevention, detection and response framework to substandard and falsified medicines. 
With the participation of the relevant stakeholders, the meeting aims to discuss the strategies and interventions and gain insights on the problem from different regions around the world.
More info here.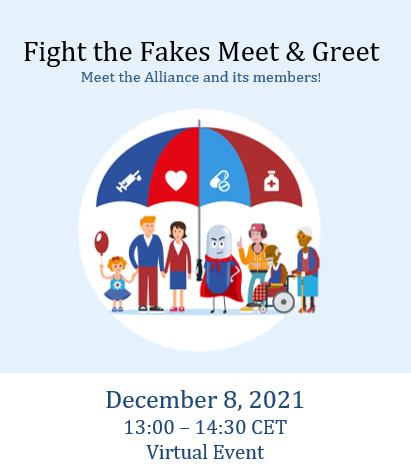 Meet & Greet – bringing Fight the Fakes members and stakeholders together for an exchange about how to raise the profile of substandard and falsified medicines worldwide.
Invite only – members and stakeholders will be provided the link to the virtual event in advance.
The International Federation of Pharmaceutical Manufacturers & Associations (IFPMA) partners with its Africa-based sister associations to facilitate a discussion on the importance of multi-stakeholder collaboration and appropriate legislative frameworks in curbing the threat of substandard and falsified medicines. 
More info here.
FTF academic chapter, the Medical University of Warsaw (MUW) has organised a day long scientific conference on "Substandard medicines, medical devices and dietary supplements – identification and minimization of threats to public health".
More info here.
Let's talk about Fakes, Kings College London Fight the Fakes Chapter (more details TBC).
UCL Fight the Fakes Academic Chapter is holding an arts/photography competition to get us thinking about the kind of harm substandard and falsified medicines can bring!
They have also organized a writing competition. Participants need to talk about what they think can be done the current crisis of COVID-19 falsified medical products.
Participants have until 17 December to submit their entries for both competitions.
Stay tuned - more activities to be announced!
Don't forget to visit the 4th Fight the Fakes Week dedicated page to discover our social media toolkit and more!